Hotel
As our guests, you have the privilege of using our relaxation and entertainment area.

That facilities are included to the price of your stay
BASEN & SAUNA from 8 a.m. to 9 p.m..

SMALL GYM ANG & PLAY ROOM FOR KIDS available 24h/day

EXTRA PAID
BILLARD ROOM 20pln/hour - ask in the reception about reservations

CONFERENCE ROOM 80m2 available for 50 people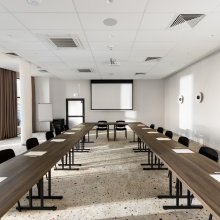 KOMUNIKAT
W sprawie jakości wody w basenie w Hotelu Antares.
Na podstawie Rozporządzenia Ministra Zdrowia z dnia 9 listopada 2015 roku w sprawie wymagań jakim powinna odpowiadać woda na pływalniach, Zarząd Hotelu Antares (Przedsiębiorstwo Ekotronik Sp. z o.o.) informuje, że według badań wykonanych przez akredytowane laboratorium, a także codzienną kontrolę parametrów woda w niecce basenowej spełnia wymagania mikrobiologiczne i fizykochemiczne określone w wyżej wymienionym rozporządzeniu. Przekroczenia zostały odnotowane jedynie w wodzie z natrysków i dotyczą bakterii Legionella sp. Zostały niezwłocznie podjęte środki naprawcze (przegrzew wody). Po zakończeniu działań zostały pobrane próbki wody do ponownego badania. Planowany termin doprowadzenia jakości wody na pływalni do odpowiednich wymagań: 31.05.2022r.
Z poważaniem,
HOTEL ANTARES