Hotel
As our guests, you have the privilege of using our relaxation and entertainment area.

That facilities are included to the price of your stay
BASEN & SAUNA from 8 a.m. to 9 p.m..

SMALL GYM ANG & PLAY ROOM FOR KIDS available 24h/day

EXTRA PAID
BILLARD ROOM 20pln/hour - ask in the reception about reservations

CONFERENCE ROOM 80m2 available for 50 people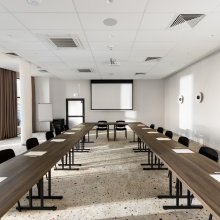 KOMUNIKAT
W sprawie jakości wody w basenie w Hotelu Antares.
Na podstawie Rozporządzenia Ministra Zdrowia z dnia 9 listopada 2015 roku w sprawie wymagań jakim powinna odpowiadać woda na pływalniach, Zarząd Hotelu Antares (Przedsiębiorstwo Ekotronik Sp. z o.o.) informuje, że według badań wykonanych przez akredytowane laboratorium, a także codzienną kontrolę parametrów woda w niecce basenowej spełnia wymagania mikrobiologiczne i fizykochemiczne określone w wyżej wymienionym rozporządzeniu.
Z poważaniem,
HOTEL ANTARES